Fees:
Counselling / Psychotherapy : From £55 per one hour session 
EMDR : £60 per one hour session / £80 per 1.5 hour session
If you would like to contact me to make an initial appointment, or to ask any further questions, please see contact details at the bottom of this page. 
 Where does the Counselling take place?
The counselling takes place in a safe and confidential room in the heart of Radyr, Cardiff. It is accessible via car or public transport.  Radyr train station is a 5 minute walk from my counselling room – The Cwtch.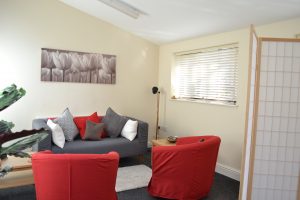 When am I available?
I offer in person appointments on Mondays, Wednesdays and Thursdays in my comfortable and confidential space in Radyr, Cardiff. Please see pictures on this website. 
I offer online sessions using Teams on Tuesdays.  
Working hours: 9.30-4.30pm
Please contact me for more information.
Contracts/Agreements
In accordance with the British Association for Counselling and Psychotherapy (BACP), I provide a contract/agreement which we discuss in the first session.
Contact Me
Please contact me on lizmrcounselling@gmail.com to arrange an initial appointment or to ask any further questions. Alternatively, you can text / call on Tel: 07507 365 980.  All messages are recieved confidentially.